Visit
Hours, Fees & Directions
Please see below for general information. You may also click here for important information regarding your visit. We have a Trail Map and ADA Map at the bottom of this page which you may download. Wondering what our center is like? Click here for a preview!
Trail Hours:
Wednesday - Friday: 9am - 3pm
Saturday - Sunday: 8am - 3pm
Holiday hours:

Center closed Sunday, December 24, through Friday, December 29
Center open 8am – 3pm Saturday, December 30 (Christmas Bird Count) and Sunday, December 31
Center closed Monday - Tuesday, January 1-2
Center open Wednesday, January 3, and resuming normal hours

Free Entry begins January 1. Please note that January 1 - December 31, 2023, entry will be free! To read more about our efforts to increase accessiblity to the center, click here. We ask that you reserve a ticket online prior to your visit.
Groups: Groups are welcome! Please let us know ahead of time if your group is larger than 20, since scheduled field trips may impact your experience.
Our Adult to Child ratio is 1:6. Please keep this in mind when making group reservations.
Closed on ALL major holidays as well as most federal holidays. Please check our Facebook page for the most up to date holiday hours.
Please note: We close one hour early the day before a major holiday. Please check our Facebook page for the latest information regarding early closures.
Admission:
Click here to learn more about our membership program or to sign up to become a member.
PHOTOGRAPHY:
Professional and commercial photographers and film crews – please contact us at trac@audubon.org for information regarding our media policy and rates.
Nature Store
Our nature store is OPEN! Please click here to see what we have!
Group Tours
Please reach out to trac@audubon.org for more information.
Location
6500 Great Trinity Forest Way*
Dallas, TX 75217
*Dallas changed the name of the street a few years ago. If Great Trinity Forest Way does not show up on maps or GPS, please try "6500 S. Loop 12."
For more information call 214-309-5801.
Longitude and latitude coordinates: 32.712636, -96.70879
By DART
The easiest way to get to the center by DART is to ride the closest DART line in your city to downtown Dallas. Once you reach Downtown Dallas, you can get off at the West End, Akard, St. Paul, or Pearl station. At the transfer stations, wait and board the Green Line train heading to Buckner Station.
Get off at Buckner Station, and board DART Bus route 466. Keep your eyes open for the large brown Trinity River Audubon Center sign on the left side of the road and get off! The Center is about a half mile walk or bike ride from the mail entrance.
Useful links:
http://dart.org/
http://dart.org/schedules/schedules.asp
http://dart.org/fares/fares.asp
Resources for Visitors with Special Needs
All of us at Trinity River Audubon Center want to help you make the most of your visit. If you have any special needs, please call our front desk at 214-309-5801 during center operating hours.
Many of the trails are wheelchair accessible, and the center is accessible to wheelchair users and other visitors who cannot use stairs. Wheelchairs are available on a first-come, first-serve basis. Please call in advance so that we can ensure availability. The center's entrance and restrooms are ADA compatible. We recommend dropping off and picking up visitors with special needs at the circle driveway (north side of the center).
Companion service dogs are allowed in the center and on trails.
How you can help, right now
Volunteer With Us
Give back, use your skills, and learn more about the wild side of Dallas by volunteering with us.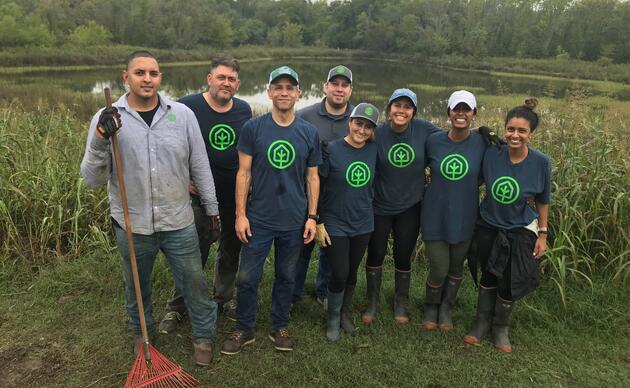 Support Our Center
Conservation and outdoor education along the Great Trinity Forest and the Trinity River.