Virtual programs, videos, activities, coloring pages, and more!
Virtual Programs
We offer several of our programs virtually!
Eco Investigations
Take your students on a virtual excursion to learn about our natural world. This program is for grades 1-8. Click here for further details!
Lil' Naturalists
Join our Audubon Educators on an adventure through nature, virtuall! This program is for Pre-K - 1st grade. Click here for further details!
Virtual Content
Are you looking for ways to incorporate birds into your curriculum or activities you can do with your kids at home? We share resources on this page from both our network team across the country and our local center education staff. You can also check out our Facebook Page and Youtube Channel for new content!
Audubon Adventures
Check out Audubon Adventures, the National Audubon Society's award winning, online curriculum resource!
http://www.audubonadventures.org/
Audubon for Kids
Check out the fun and educational activities at Audubon for Kids, available in both Spanish and English. There is a new bird-related theme each week with activities for kids of all ages.
TRAC Videos
Weekly TRAC Facts are BACK!
Weekly TRAC Facts 2022: Trail Etiquette...and some humor!
Weekly TRAC Facts 2022: Learn About Grass
Weekly TRAC Facts 2022: The Great Egret...Audubon's Logo!
Birdwatching at Trinity River Audubon Center
TRAC Trail Feature: Trinity River Trail
Weekly TRAC Facts: Herpetofauna
Weekly TRAC Facts: Environmentally Friendly
All About our Animal Ambassadors
Audubon Texas State of the Centers July 2020
Weekly TRAC Facts: Spring Migration & Window Strikes
Weekly TRAC Facts: Eastern Hognose Snake
Weekly TRAC Facts: Texas Dandelion
Weekly TRAC Facts: Unusual Things in Nature
Weekly TRAC Facts: Blackland Prairie Native Plants
Weekly TRAC Facts: Ruby-throated Hummingbird
Weekly TRAC Facts: Black Willow Tree
Weekly TRAC Facts: Native Milkweed as Monarch Larval Hosts
North Texas Blooms: Texas Baby Blue-Eyes
North Texas Blooms: Wild Garlic
North Texas Blooms: Dwarf Sorrel Broomrape
North Texas Blooms: Philadelphia Fleabane
Where Birds Thrive, People Prosper!
I Used to Bird, Now I'm a Bird Challenge
Coloring Pages
In honor of 2018's Year of the Bird, Trinity River Audubon Center's former Volunteer Coordinator, Ann Huey, created this special edition coloring sheet to celebrate our feathered friends. See the Downloadable Resources below.
Photography Awards 2021
This year more than 2,000 photographers from across the United States and Canada submitted images to Audubon magazine's 12th annual Audubon Photography Awards. Displayed in no particular order, these photos feature birdlife at its most vivid, vulnerable, formidable, and playful.
Community Science Links
What is Community (Citizen) Science?
How you can help, right now
Volunteer With Us
Give back, use your skills, and learn more about the wild side of Dallas by volunteering with us.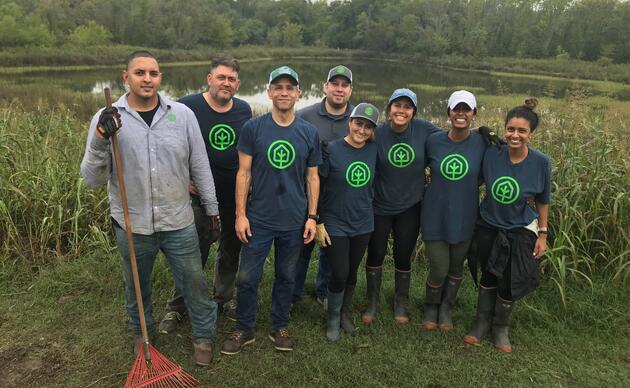 Support Our Center
Conservation and outdoor education along the Great Trinity Forest and the Trinity River.