Virtual programs, videos, activities, coloring pages, and more!
Virtual Programs
Check out our monthly virtual programs with Jake and Marcus!
Bird Banter with Jake and Marcus
Spend your summer with our Education Team from the comfort of your own A/C! Jake Poinsett and Marcus Cole will be "talkin' birds" this June, July, August, and September for a virtual presentation series known as Bird Banter. Learn all about the birds of the DFW area, the habitats they depend on, and how you can make Dallas an even better Bird City for our feathered friends. Instructions on how to register and tune in will be posted on our website and social media channels.
June 5 - Summer Texans: Breeding Birds of DFW
July 3 - Shorebirds: Fall Migration Already?!?!
August 7 - How Do Birds Beat the Texas Heat?
September 4 - Plant for Birds
October 2 - Bird Trivia!!
Please click on titles above to register.
Virtual Content
Are you looking for ways to incorporate birds into your curriculum or activities you can do with your kids at home? We share resources on this page from both our network team across the country and our local center education staff. You can also check out our Facebook Page and Youtube Channel for new content!
Audubon Adventures
Check out Audubon Adventures, the National Audubon Society's award winning, online curriculum resource!
http://www.audubonadventures.org/
Audubon for Kids
Check out the fun and educational activities at Audubon for Kids, available in both Spanish and English. There is a new bird-related theme each week with activities for kids of all ages.
Educational Videos
TRAC Trail Feature: Trinity River Trail
Weekly TRAC Facts: Herpetofauna
Weekly TRAC Facts: Environmentally Friendly
All About our Animal Ambassadors
Audubon Texas State of the Centers July 2020
Weekly TRAC Facts: Spring Migration & Window Strikes
Weekly TRAC Facts: Eastern Hognose Snake
Weekly TRAC Facts: Texas Dandelion
Weekly TRAC Facts: Unusual Things in Nature
Weekly TRAC Facts: Blackland Prairie Native Plants
Weekly TRAC Facts: Ruby-throated Hummingbird
Weekly TRAC Facts: Black Willow Tree
Weekly TRAC Facts: Native Milkweed as Monarch Larval Hosts
North Texas Blooms: Texas Baby Blue-Eyes
North Texas Blooms: Wild Garlic
North Texas Blooms: Dwarf Sorrel Broomrape
North Texas Blooms: Philadelphia Fleabane
Where Birds Thrive, People Prosper!
I Used to Bird, Now I'm a Bird Challenge
Coloring Pages
In honor of 2018's Year of the Bird, Trinity River Audubon Center's former Volunteer Coordinator, Ann Huey, created this special edition coloring sheet to celebrate our feathered friends. See the Downloadable Resources below.
National Audubon Society's Live Spring Migration Show
Join National Audubon Society for I Saw A Bird: Audubon's Spring Migration Show each Wednesday on Facebook Live or Zoom, at 7 p.m., ET. Questions from the audience about birds are answered while speaking with fellow Audubon staff, outside experts, and special guests. Click here to learn more.
Click here to watch this week's episode on Facebook.
Community Science Links
What is Community (Citizen) Science?
How you can help, right now
Volunteer With Us
Give back, use your skills, and learn more about the wild side of Dallas by volunteering with us.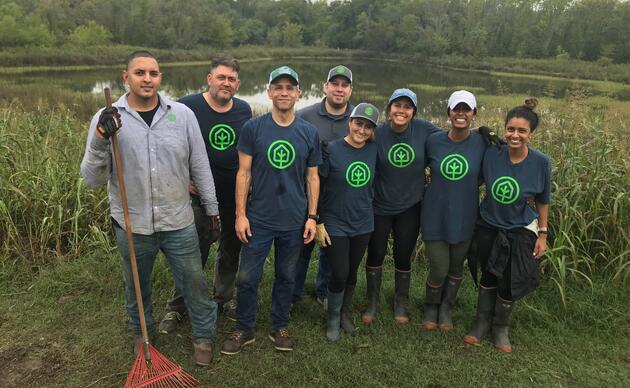 Support Our Center
Conservation and outdoor education along the Great Trinity Forest and the Trinity River.