Events
Hike the trails at Trinity River Audubon Center!
Hello Trinity River Audubon Center friends! Please see below for visitor information.
Hours:

We are open Wednesday - Friday 9am - 3pm and Saturday - Sunday 8am - 3pm.

Please note we will close at 12pm on Saturday, January 7, for a private event as well as all day Sunday, February 19.

Registration:

Advance ticket registration is requested.

Free Entry begins January 1

. Please note that January 1 - June 30, 2023, entry will be free! To read more about our efforts to increase accessiblity to the center, click here. We ask that you reserve a ticket online prior to your visit.

Check-In Required:

Please check in at the front desk upon arrival.

Masks:

We are City of Dallas facility and suggest that you please wear a mask, especially when checking in and passing people on the ramps and trails.

Social Distance:

Please leave 6 feet between you and others who are not in your group.

Bathrooms:

Indoor and outdoor bathrooms are available.

Nature Store:

Our nature store is OPEN! Please click here to see what we have!

Changes:

As data and parameters change, we will adjust as needed to accommodate the needs of our staff, volunteers, and visitors.

Refunds:

Please check the weather forecast before purchasing your ticket. We do not provide weather-related refunds or transfers.

Dogs:

Dogs are not permitted on the Trinity River Audubon Center property. For our policy regarding dogs, please visit

https://trinityriver.audubon.org/files/service-animal-policies.

Photography:

Professional and commercial photographers and film crews – please contact us at trac@audubon.org for information regarding our media policy and rates.
We appreciate your understanding and compliance. You can continue to reach the staff via e-mail at trac@audubon.org or by phone at (214) 309-5801.
How you can help, right now
Volunteer With Us
Give back, use your skills, and learn more about the wild side of Dallas by volunteering with us.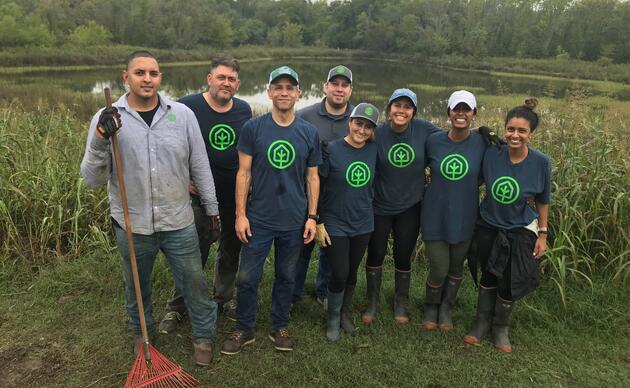 Support Our Center
Conservation and outdoor education along the Great Trinity Forest and the Trinity River.