About
Green Building
Green Building & LEED Certification
Trinity River Audubon Center is designed not only to minimize any adverse effect on the environment, but to also repair some of the pre-existing environmental problems on the site. This project was the first LEED-certified Dallas Park and Recreation Department project.
Sustainable features of the center include:
Remediation of a Brownfield Site
This closed landfill in southeastern Dallas is a visionary restoration project that reclaimed 120 acres of the Great Trinity River Corridor. The Deepwood Landfill site comprised 1.5 million tons of construction debris illegally dumped over a 15-year period. Following the criteria of the state's requirements and the goal of returning this land to nature for the use of future generations and as a site of the center, the devised plan consolidated the waste into capped rolling hills replanted with tall prairie grass and hardwood trees once dominant on the Texas Blackland Prairie. Learn more of the neighborhood history with bcWorkshop's Documentary film: Out of Deepwood.
Permeable Paving/Stormwater Control
With increasing urban development, there is less opportunity for rainwater to seep back into the ground. This has led to more frequent and pronounced flooding. Trinity River Audubon Center is designed to reduce erosion: at the base of the hills, a series of cascading wetland marshes and ponds captures and polishes runoff from adjoining neighborhoods and prairies before returning the cleansed water to the river
Water-Efficient Landscaping and the Use of Rainwater Harvesting for Irrigation
Many native and well adapted North Texas trees and prairie grasses have been planted throughout the site. Native plants are usually very hardy and need little supplemental watering. Rainwater is captured from the roof and used for irrigation of plants near the center building.
Minimized Heat Island Effect
The "heat island effect," re-radiation of heat from asphalt and concrete, causes many cities to be warmer than surrounding rural areas. This effect is reduced at the Audubon Center by using light colored paving, permeable materials for pavement, and shading existing paving. A green or vegetated roof on the administration wing also minimizes heat absorption.
Water Use Reduction
In the US alone, more than four billion gallons of water are flushed down toilets every day. Low flow toilets, lavatories and shower heads have been installed throughout the facility to reduce water consumption by at least 20%.
High-Efficiency Heating, Ventilation, Air Conditioning and Electrical Systems
Building systems at the Center have been designed for maximum efficiency and minimal utility use, including incorporation of zoned controls and use of water-cooled chillers for air conditioning.
Low Environmental Impact Construction Materials
Use of regional materials minimizes harmful emissions generated from transporting materials from the place of extraction to the manufacturing plant to the consumer. Trinity River Audubon Center is comprised of many local building materials, as well as cypress siding certified by the Forest Stewardship Council; recycled-content materials; rapidly renewable resources such as bamboo, wool, cotton, straw, wheat and cork; and low-volatile-emitting materials. For the concrete, all the gravel and sand was extracted from local quarries. Fly ash, a by-product from coal plants that would normally go into a landfill, was used as a partial substitute for the cement content.
Daylighting and Views
Recent studies show that daylighting—using natural daylight for interior illumination where possible--promotes better health and physical development and reduces utility use. The center was designed for maximum daylighting and views to the exterior without internal heat gain from the bright Texas sun.
What is LEED® Certification?
You might hear the term "green buildings" from time to time to describe buildings, homes and projects that are built with protecting the environment and saving energy in mind. The Trinity River Audubon Center will be the first green building constructed by the Dallas Park and Recreation Department to qualify for LEED Certification.
The Leadership in Energy and Environmental Design or (LEED) Green Building Rating System™ encourages and accelerates global adoption of sustainable green building and development practices through the creation and implementation of universally understood and accepted tools and performance criteria.
LEED is a third-party certification program and the nationally accepted benchmark for the design, construction and operation of high performance green buildings. LEED gives building owners and operators the tools they need to have an immediate and measurable impact on their buildings' performance. LEED promotes a whole-building approach to sustainability by recognizing performance in five key areas of human and environmental health: sustainable site development, water savings, energy efficiency, materials selection and indoor environmental quality.
The built environment has a profound impact on our natural environment, economy, health, and productivity.
In the United States alone, buildings account for:
72% of electricity consumption,
39% of energy use,
38% of all carbon dioxide (CO2) emissions,
40% of raw materials use,
30% of waste output (136 million tons annually),
and14% of potable water consumption.
For more information on LEED Buildings and Certification of projects please visit the U.S. Green Building Council Web site at http://www.usgbc.org.
Trinity River Audubon Center is a nonprofit organization supported, in part, by funds from the City of Dallas Park and Recreation Department.
How you can help, right now
Volunteer With Us
Give back, use your skills, and learn more about the wild side of Dallas by volunteering with us.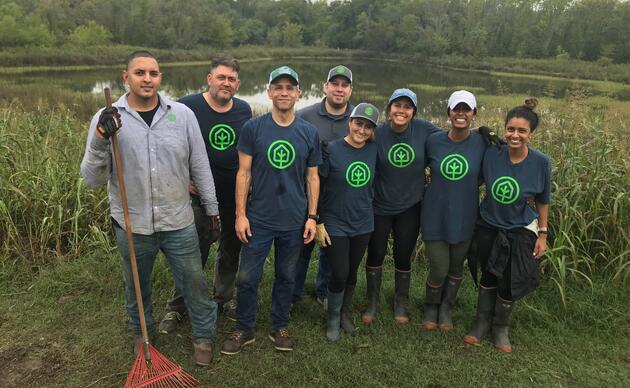 Support Our Center
Conservation and outdoor education along the Great Trinity Forest and the Trinity River.