Discover this area's nature and history in a setting reminiscent of the early days of Dallas when Blackland Prairie dominated the landscape. Take a virtual tour.
The following are updated guidelines due to COVID-19:
Please check in at front desk upon arrival.
You must provide your own water bottle.
Please maintain at least a six-foot distance from people not in your group.
No groups over 10 people are allowed.
Face masks recommended.
Trail open hours may be adjusted - be sure to check park hours before you visit.
The following are prohibited at the Center and surrounding grounds:
Horses, dogs, or other animals except service animals (please see our polices below)
Bicycles on trails (biking is permitted on the City of Dallas Great Trinity Forest Trail and AT&T Trail which connects near our center)
Smoking or campfires
Hunting, camping, and fishing
Specimen collecting of any kind without a permit
Alcohol and other intoxicants
Motorized vehicles of any kind or size beyond the parking lot
Fireworks, firearms, or any other weapons (enforced by Dallas Police Department)
Swimming, walking, or boating in ponds
Parking on the grass
Professional photography without a permit or drone photography/video
Other Guidelines:
There are both venomous and non-venomous snakes on the premises. They are protected by state law. If you encounter any snake, give it wide berth and leave it alone.
Poisonous plants, including poison ivy, are on the property. Know what poison ivy looks like and avoid it.
Do not attempt to touch, befriend, feed, or help any wild animal you encounter while on the trails. Please notify the front desk of any injured animals.
Stay on designated trails and specifically avoid areas where vegetation could be impacted. Walk in the middle of the trail, even when wet or muddy. Avoid walking on vegetation as it widens the trail and contributes to erosion.
Please supervise your children and children within your care at all times. Guests under the age of 16 must be accompanied at all times by an adult.
Picnics are permitted in designated picnic areas only.
Please do not litter. Dispose of your trash and recycling in the appropriate receptacles found on the trails or around the center.
To read through our complete Center Policies and Service Animal Policies, please select from the downloadable resources below.
PHOTOGRAPHY:
Professional and commercial photographers and film crews – please contact us at trac@audubon.org for information regarding our media policy and rates.
How you can help, right now
Volunteer With Us
Give back, use your skills, and learn more about the wild side of Dallas by volunteering with us.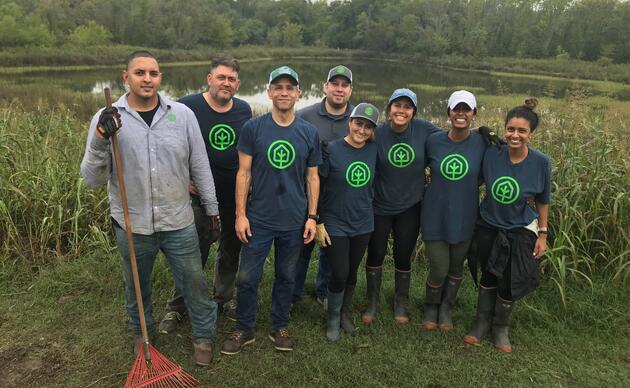 Support Our Center
Conservation and outdoor education along the Great Trinity Forest and the Trinity River.