Become part of our habitat restoration and environmental remediation efforts.
Prairie Restoration at Trinity River Audubon Center
The Great Trinity Forest is part of the Blackland Prairie, one of the most endangered ecosystems in North America. Trinity River Audubon Center is situated in the Blackland Prairie's historical range. Previously known for its variety of tall grasses and rich soil, less than 1% of the Texas Blackland Priairie remains intact, thus negatively impacting many animals and birds that depend on this ecosystem.
Prairie restoration fits seamlessly within the National Audubon's mission "to protect birds and the places they need, today and tomorrow" while also conserving and restoring natural ecosystems.
Trinity River Audubon Center's restoration efforts will help provide much needed habitat for grassland-dependent species that are continuing to decline in population. The overall rehabilitation of the Blackland Prairie within our boundaries enhances the ecological value of the Trinity River Audubon Center and continues the efforts of the center's goal by returning the land to its original state, prior to the historical illegal onsite dumping. The Prairie Restoration Project will be an essential part of Audubon's long-term commitment toward bird preservation and will also develop a future generation of conservation stewards.
Prairie Management Plan
With work from staff, volunteers, community partners, scout groups, and high school/college students, areas along the "prairie trail" will be restored via invasive species removal (mechanical removal and herbicide application), biological control (planting native grasses and forbs/broadcasting seeds and seed balls), and growing plants from parent stock (propagating grasses and growing into pots in addition to collecting seeds and growing into pots). Other grassland areas (outside of the building and parking area and subsequent to the observation deck) will be maintained by staff and volunteers by removing invasive plants.
Join our Prairie Team! We have $100 and $500 membership levels. Please click on the file below for further details.
For more information or to help Preserve a Prairie, please contact us at trac@audubon.org!
How you can help, right now
Volunteer With Us
Give back, use your skills, and learn more about the wild side of Dallas by volunteering with us.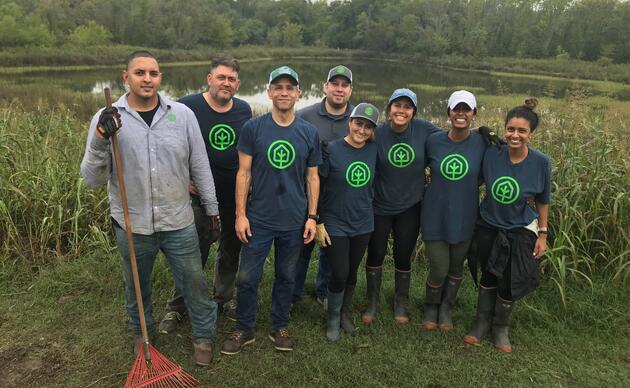 Support Our Center
Conservation and outdoor education along the Great Trinity Forest and the Trinity River.