Events
World Migratory Bird Day
Come and celebrate the Joy of Birds!
World Migratory Bird Day 2023 was a blast!
On Saturday, May 13 2023, we hosted our third annual World Migratory Bird Day celebration at Trinity River Audubon Center. World Migratory Bird Day (WMBD) is an annual awareness-raising campaign highlighting the need for the conservation of migratory birds and their habitats. It has a global outreach and is an effective tool to help raise awareness of the threats faced by migratory birds, their ecological importance, and the need for international cooperation to conserve them.
Over 200 people were at the Center enjoying a variety of activities. This year we had a number of guided bird walks, nature hikes, and native plant walks led by staff and local partners in conservation. Our Great Hall was filled with local organizations highlighting their work in conservation and letting folks know how they can get involved. A bird birding station was located off trail for participants to learn from an ornithologist and see a bird in hand. Finally yet importantly, our annual Birder Bowl was in full effect with lots of birders competing to see who can spot the most species in one day! The champions this year were the Newman family for the team category and Christian Roberts for the individual category!
A big thank you to everyone who came out to celebrate with us, and special thanks to our partners in conservation who spent the day sharing their love for birds and the places they need for today and tomorrow:
North Texas Master Naturalists
Texas Parks and Wildlife
Dogwood Canyon Audubon Center
John Bunker Sands Wetland Center
Texas Conservation Alliance
City of Dallas
Trinity Park Conservancy
John Snowden
Blaine Carnes
The Perot Museum
Rainbow Garden Club
Dallas Public Library
Texas Wildlife Association
***And all of our dedicated volunteers!
Click here to see pictures and we will see you next year. Happy birding!
How you can help, right now
Volunteer With Us
Give back, use your skills, and learn more about the wild side of Dallas by volunteering with us.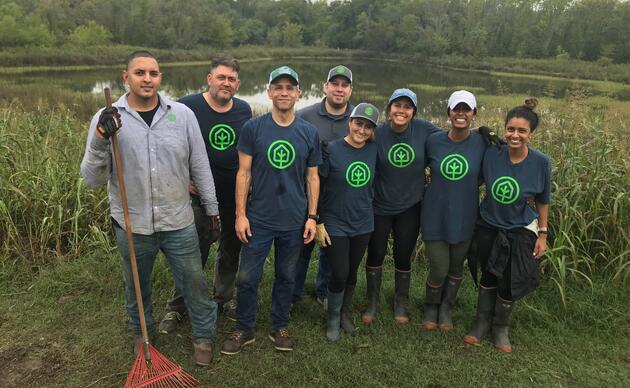 Support Our Center
Conservation and outdoor education along the Great Trinity Forest and the Trinity River.