Developing leaders in birding for our region.
Overview of NCTMB Program
Audubon Dallas is the proud sponsor of The North-Central Texas Master Birder (NCTMB) Program. NCTMB is a course in field ornithology for intermediate-level birders. It is designed to provide participants with techniques to enhance applicants' existing bird identification skills and general knowledge of birds, ecology, conservation, and habitat requirements in Texas. It is also an "education for service" initiative. Participants will receive advanced training in field ornithology in exchange for volunteer services to the North-Central Texas community.
The NCTMB provides training on ornithological topics using a combination of nine classroom sessions and seven instructor-led field trips. Besides general bird identification challenges, topics will include:
Ecological Zones of Texas and the Associated Avifauna
Birding Equipment Including Optics, Field Guides, Written Forms, and Checklists
Birding Etiquette in the Field
Bird Structure
Bird Migration
Texas Specialty Birds
Birding Ethics
Record Keeping and Reporting, including use of eBird
How the NCTMB Program Works
Applicants will complete a written application prior to acceptance into the program. Successful applicants will be birders who have demonstrated enthusiasm for the hobby and who are capable of fulfilling the physical demands of attendance and participation during the calendar year. This includes all scheduled class times and field trips.
Field Trip costs including gas, park entrance fees, and accommodations when applicable are not included the program cost. These costs are incurred by each participant separately. Accommodations will only be required during the one optional Texas coast field trip (January) and the one required Texas coast field trip (April).
Applications are due June 1, 2020. Written notification of acceptance will be e-mailed to applicants on or about July 15, 2020. Please note that due to covid-19, the September 2020 program start has been delayed until September 2021.
Full payment of the class fee of $175.00 will be due and payable at the first scheduled class. Payment arrangements are available. However, these arrangements must be made in advance of the first scheduled class. No payment arrangements will be made after the first scheduled class.
The class size will be limited to 12 participants to insure a quality experience for all.
North Central Texas Master Birder
Calendar of Classes and Field Trips - Please note that due to covid-19, the September 2020 program start has been delayed until September 2021.
All classes will be head at Trinity River Audubon Center (TRAC) on Saturday mornings. Classes will be 8 – 10 am unless otherwise noted. Field trip meeting times and locations will be announced at the preceding class.
TRAC is open on Saturday for Early Morning Birding at 7:30am before class.
September 12 Orientation and first class, 8:30 am – 12 noon
September 26 Hawk Watch, Tyler SP
October 10 Second class - Hawks, 8:00 am - 10:00 am at TRAC
November 14 Third class - Waterfowl, 8:00 am - 10:00 am at TRAC
November 21 Hagerman National Wildlife Refuge, with Master Birders Carrie Steingruber and Chuck Carlson
December 5 Fourth class - Gulls, 8:00 am - 10:00 am at TRAC. There will be a very short follow-up study of gulls one morning during week at White Rock Spillway; (specific dates TBA) with Master Birder Instructor, Chris Runk
Participation in one (or more) Christmas Bird Counts of your choice
January 23 Fifth class – Gulls; Shorebirds, 8:00 am - 10:00 am at TRAC
January 29-31 Bolivar Flats, Anahuac (optional field trip, 2 days, 2 nights)
February 20 Sixth class – Sparrows, 8:00 am - 10:00 am at TRAC
March 13 Seventh class – Song birds; migration
March 20 Village Creek Drying Beds
April 10 Eighth class – Migration; warblers
April 16-18 High Island, TX, including Sabine Woods (2 days, 2 nights)
May 1 Ninth class – song birds; shorebirds, 8:00 am - 10:00 am at TRAC. Follow-up field trip after class to Joppa Preserve from 10:00 am - noon. This field trip is a very short drive from TRAC.
May 22 Graduation
Complete the online application: https://www.nctexasbirds.com/2018-master-birder-program/mb-application-2020
Questions? Contact Janie Henderson at jhhwth@sbcglobal.net
How you can help, right now
Volunteer With Us
Give back, use your skills, and learn more about the wild side of Dallas by volunteering with us.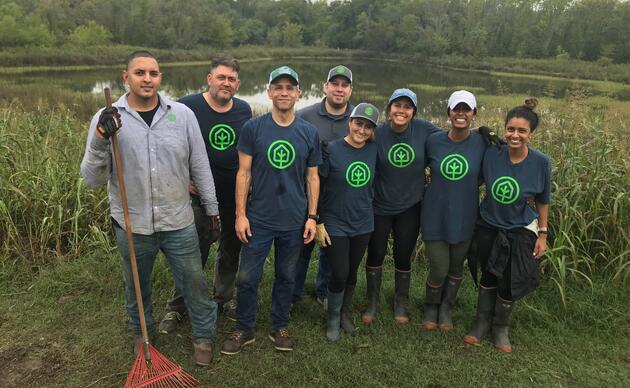 Support Our Center
Conservation and outdoor education along the Great Trinity Forest and the Trinity River.